All my maps includes a TYP file that customises the map with different look and colour for roads, areas, buildings, icons and contours.
If you download the MapSource Installer version then upload the maps as usual.
If you download the IMG version, then you need to use PatchIMG or SendMap r3.3 beta of higher to upload both the IMG and TYP files to your GPS.
Note: These custom types will definitely show with the newer Garmin GPS models like the "x" series, StreetPilot, Nuvi and Quest, older models might work with the latest firmware update. You need MapSource v6.10 or later to view the custom types on your PC. POIs do not show up in Navigation moe on some models. (see POIs don't show on my GPS)
Some Nuvi and StreetPilot have problems with custom road types, (see Nuvi/StreetPilot shutdown or restart by itself). If you downloaded the IMG version, download the MS.TYP file instead of SGJohMap.TYP
Normal Map


with Custom Types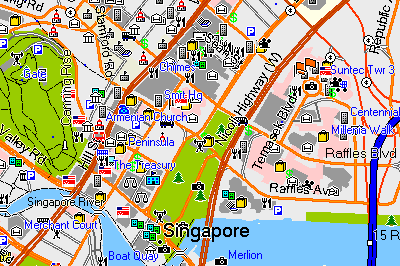 ">
Difference in the GPSr - Normal & Custom Type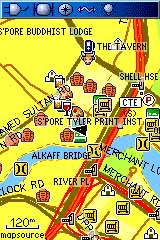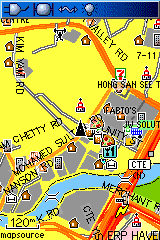 Colours in MapSource and the GPSr differ in shade.

custom polyline type:
Major highway connector - thin red with blood red border
Highway ramp - red with blood red border
Principal highway - thin brown with dark brown border
Other highway - thin brown with dark brown border
Arterial road - thin orange with dark orange border
Collector road - thin orange with dark orange border
Residential road - white with grey border
Alley/Private driveway - grey River - thick light blue stream - blue
custom polygon type:
Military - dark grey
Shopping - pink
University - light beige
Building - grey
City Park - bright green
Sports - light purple
Cemetry - green with crucifix
Hospital - pink
Industrial - light grey
Reservation - beige
Sewerage - dirty green
Plantation - green
Scrub - green
Forest - dark green

custom point type:
Mulitcolor Light - traffic light
Hotel - bed in green house
School - yellow school children crossing sign
Place of Worship - white building with red dome
Swimming Pool - swimmer in box
Sports/Fitness Centre - Weightlifter
Department Store - red coat on hanger with loop Grocery - blue shopping cart facing right
Shopping Centre - yellow shopping bag
Pharmacy - dark green cross in white box
Convenience Store - 7-Eleven logo
Apparel - red coat on hanger
House & Garden - red flower
Home Furnishing - brown chair
Computer/Software - computer
Car Park - white "P" in blue box
Emergency/Goverment (Embassy) - orange flag
Government office - SG & MY flag
Hospital - red cross in white box
Police Station - blue police car
Fire Station - red fire engine
Courthouse - justice scale
Community Centre - 4 intertwine red rings
Apartments - brown house
Building - grey tower block
Communication - blue phone
Public Utilities - yellow lightning
Bridge - black bridge
Waterfall - blue waterfall